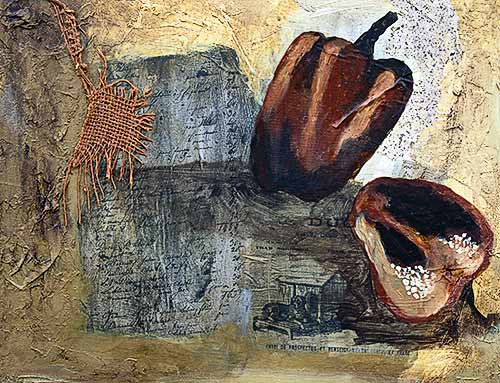 Abbreviated onto smaller canvases, these pieces of edible art provide a visual feast that is small in size but big on impact. Featuring collage and antiquing elements, the paintings plod and leap, zooming out of diverse backgrounds. Their shapes or colors may be exaggerated, details obscured or fundamentals intentionally inaccurate yet juices flow, the paint oozes and a feeling of comfort rises from their depths just as food provides stability and comfort…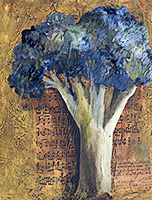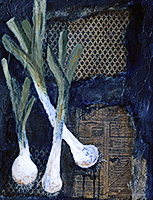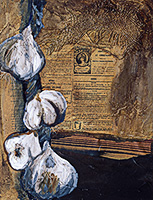 So many times I try to paint them:
Hesitant bruises of an overripe fig,
Ruby seeds born in pomegranate thighs,
Furtive green of hairy kiwi skins,
Those precocious carrot wedges,
Warty fingers of white asparagus,
Tolerant pudgy pears dappled on the table.
An artist can only replicate the apple's notoriety,
The sober mound of meditative plums,
Dew wavering on the juicy fat nectarine arms.
A sable brush wipes those lemon nipples
Before cautioning into the heady egg-filled papaya womb.