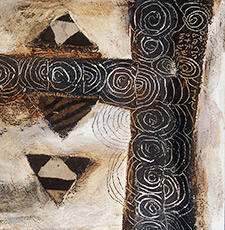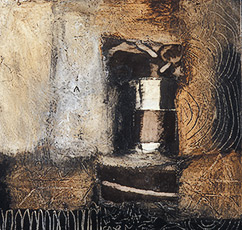 Outside those tunnels dismal and dank,
Pine shadows lengthen into shallows
Until quiet is perfected amid dolmens
Whose rocky flanks skate with graphite.

Inside subterranean caves
Where small handprints fade into a topographical hierarchy
We imagine letters from ancestors unversed in articulation:
DEAR UNBORN, THIS IS A NOTE FROM YOUR UNCLE
NEANDERTHAL, MOJO-MAN FROM THE SOUTHERN TRIBES.
Watch him now, a stocky crude man
Profuse with hair and the fat of animal.
He'll smear celestial bodies, paint bison into remission,
Translate star coils, scratch spears into the haunches of fleeing stags.
Always the charcoal smoke, always fingers gliding into crevasses,
Always counting the dwindling kills like an abacus.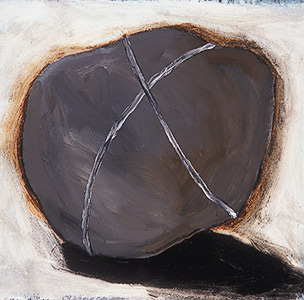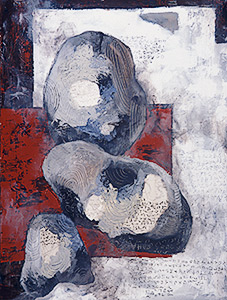 Careening in diverse directions paralleling the variety of stones that make up earth's surface, these two dimensional artworks vary from severe, timeless shapes that replicate granite megaliths to an ethereal Asian influence. Some stones are wrapped in rope, cavort haphazardly in stacks, fall through space or crouch in silent mystery.

My most obvious influence is Brittany, France where I work in the region most renowned for its standing stones, dolmens and Celtic symbolism. This has evolved into stones imbedded with ancient alphabets, designs and caveman drawings. Entire boulders may writhe with hidden meanings while other paintings focus on macro-detail that involve the viewer into imagining their own interpretation of rhyme and ritual.