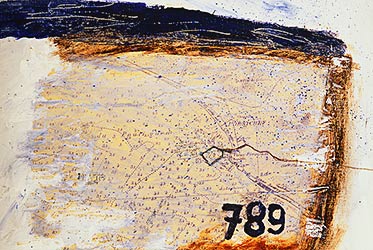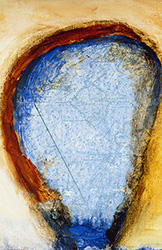 In the sea channeled with blazing pendants
Boat prows slough through the sweet of high tide
Dawdling with their nets to linger above buckets and brine.

Seaweed whirls in unlinked fingerprints
Crabs peck through barnacles
Eels slither through oyster mattresses.

Silt and salt clothe the caverns of fishermen hearts
Where muddy muscles pulse into taproots
Digging in directional confusion to the ocean's cosmos.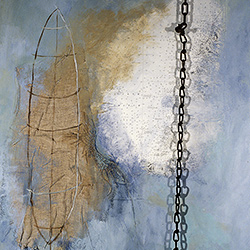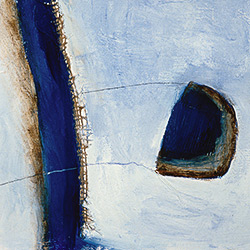 Obviously, this huge series represents my passion for the ocean, it's temperamental moods and man's impact on his permanence. Relying on nautical symbols, paraphernalia such as charts, rusted metals and my own inner visions, I either retain a calm acrylic surface or create a turbulent tempest with textures or collage. Though reminiscent of all bodies of water, I often return to Brittany and Normandy for inspiration or a dose of awe… My loose work expresses an abstract personal emotion or reaction to oceans. In this case I capsulate the images so that their content is not overwhelming, threathening or stereotypical.
A huge, abstract series dealing with the sea, it portrays nautical symbols and my inner visions of sailing, fishing or dreams of an unpolluted ocean habitat. Some are textured with nautical charts, writing and symbols reminiscent of ocean bodies. I am particulary inspired by the French seacoasts of Brittany and Normandy as well as Holland's North Sea.